Interested in what Roots of Development has been up to?
Here are some exciting updates…
1. The construction of 4 new homes for families who lost them in Hurricane Matthew is almost complete.
​2. I
n partnership with Parsons School of Design, our local community partners will be installing another set of
solar street lamps on the island this May.
3. The award-winning Haitian band RAM is coming to Washington D.C. to perform at our annual event, Saturday, June 17th. The event will sell out! Get your t
ickets now at
https://roots9thdcfundraiser.eventbrite.com
4. We have a new staff member, Field Director Lineda Paul, and will soon have our own office and meeting space, as well as sleeping accommodations on La Gonave, to support the growth of our activities on the island.
5. We are preparing to carry out a 3-5 year municipal development plan with the local mayor's office and La Gonave's civil society. If you are interested in learning more or potentially supporting this project, contact us at info@rootsofdevelopment.org.
More details about each below…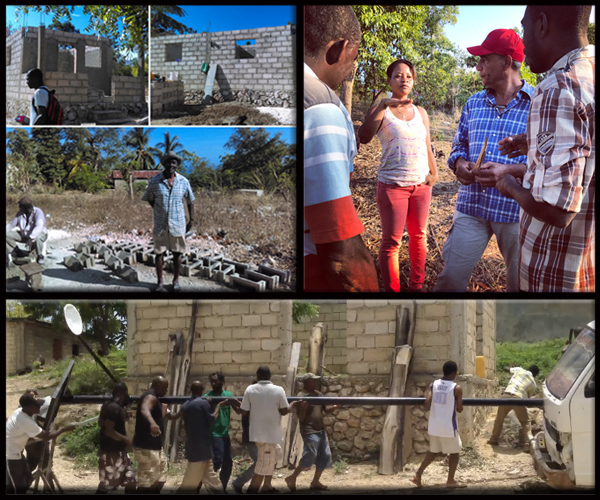 ---
We are helping our local partners build new homes
Hurricane Matthew completely destroyed the homes of 805 families on La Gonave. It was a tremendous amount of damage and a huge setback for one of the most challenged parts of Haiti. Immediately after the hurricane we began working hard to ensure the Haitian government and the international community responsible for the relief effort would not forget about La Gonave and include it in the national relief and reconstruction plan. It has been included by name, but even after having two of our projects for La Gonave approved and the international community raising over $25 million for relief efforts, very little has gone to La Gonave and we have received no funding for the community projects that were approved. In fact, we are being told the $25 million has already been spent, and that it is unlikely more will be raised…leaving La Gonave and those 805 families without support.
So we are pushing forward, as always, and using the funds you helped us raise after the hurricane to rebuild as many homes as that support allows. Our local partners are about to complete the construction of four new homes for four families who were identified as being in greatest need. We hope to help more families rebuild in the near future.


---
Another installation of solar street lamps with Parsons School of Design
Professor Chad Groshart and a group of students from Parsons School of Design in NYC will be traveling to Haiti in May to help install another set of solar street lamps. This will be the second time Parsons is working with Roots of Development to help communities on La Gonave sustainably address their lighting needs. The lamps installed last year are being used by the community to come together after dark, help local merchants sell their products, and students study at night after the sun has gone down.

---
Join us at our exciting annual event in Washington D.C. on June 17th

Every year, diverse and influential guests gather in Washington D.C. to celebrate Haiti and support Roots of Development's unique approach to development.
Last year sold out, and we expect the same to happen this year. Tickets are already on sale, including a limited amount of "early bird" discount tickets (until May 1st), so get yours now.


One of the real highlights of this year's event is going to be the live performance from the award-winning Haitian band RAM. RAM has been one of the prominent bands in the mizik rasin musical movement in Haiti and is well known for its Thursday night performances at the Hotel Oloffson in Port-au-Prince.

---
A new team member and field office in Haiti
To help us manage our expansion of activities on La Gonave, we have hired a new full-time staff in Haiti, Ms. Lineda Paul. Lineda comes to us after having worked many years for the international organization TECHO. She will serve as our Field Director and be responsible for expanding our programs on La Gonave, helping our local partners implement projects, and measure their impact and growth in capacity.

We will also soon have office and meeting space on La Gonave, so that we can appropriately support the two large projects we have coming up later in the year. As we expand our efforts on the island, we begin working with more communities and more local leaders. Having our own office and meeting space, and accommodations, will be cost effective and allow us to better serve our partners.

---
Two upcoming large local capacity-building development projects
We have begun working with two Haitian partner organizations to bring two very exciting leadership development and community capacity-building programs to the island of La Gonave. We will be working with one of the organizations, CLE (Le Centre Haitien du Leadership et de L'Excellence), to carry out trainings and workshops with 70 local leaders from around the island (35 of which will be women). We will focus on strengthening skills related to leadership, economic development, and civic engagement.


We are in the final stages of planning a second, longer project we hope to carry out with our partners CEFCAD (Centre de Formation Citoyenne et d Appui au Developpement). The project will be in partnership with the mayor's office of Anse-a-Galets. We will be working with the mayor and La Gonave's civil society to strengthen governance and increase local ownership of the development process. The 18-month project will result in a 3-5 year official development plan for the municipality. The development plan will be developed entirely by local residents and leaders, printed, and available to all parties interested in helping La Gonave explore its greatest opportunities and address its greatest needs, as identified by them.